16 Aug 2018
How To: Simple & Effective Property Buying Website [Template]
"Should I even care about being online?"
We spend most of our time with a lot of offline strategies, outreach, phone calls and networking when it comes to REI Investing and finding "opportunities" (properties) that we can breathe new life to it or simply flip.
But I'm here to tell you that you may be missing out on the online action. Here's the thing, for each second of the day (that's 86,400 seconds), 40,000 search queries per second are processed by Google alone. 
Good chance that someone is searching how and where they can get rid of their house or vacant land for cash quick.
I'm also here to tell you that…
…driving visitors to my property buying website has been the main source of my seller leads. And it's why so many are future proofing their investing business by making sure they have a very effective landing page. 
I've easily built more landing pages than homes…
It's what I've been working on outside of Real Estate Investing for the past 5 years. Building landing pages, fine-tuning copywriting, running a/b test on ads and images – it's what I pretty much live and breathe.
Websites that can generate more property seller leads, otherwise known as lead generating landing pages, are composed of a group of definable elements. These building blocks represent the foundation of most pages and can be used as a guide when defining and creating your content.
Core Elemets of Your Property Buying Website
There are 5 must-have core elements on any landing page, which can be broken down further into a more detailed list of building blocks:
Your Unique Selling Proposition (USP)

The main headline
A supporting headline

The hero shot (images/video showing context of use)
The benefits of your offering

A bullet point list summary of benefits
Benefit and features in detail

Social proof/Reinforcement/Testimonial (I'll have what she's having)
Your Call-To-Action (CTA)

Property form
Collect Name, Email, Property Address, Phone
Here's Your Blueprint
Below is a template that has been tried and tested which you can follow.
It's specifically laid out to strategically hit all the core of a very effective and succinct property buying website without being too text heavy, confusing, and with clear action for your seller to take.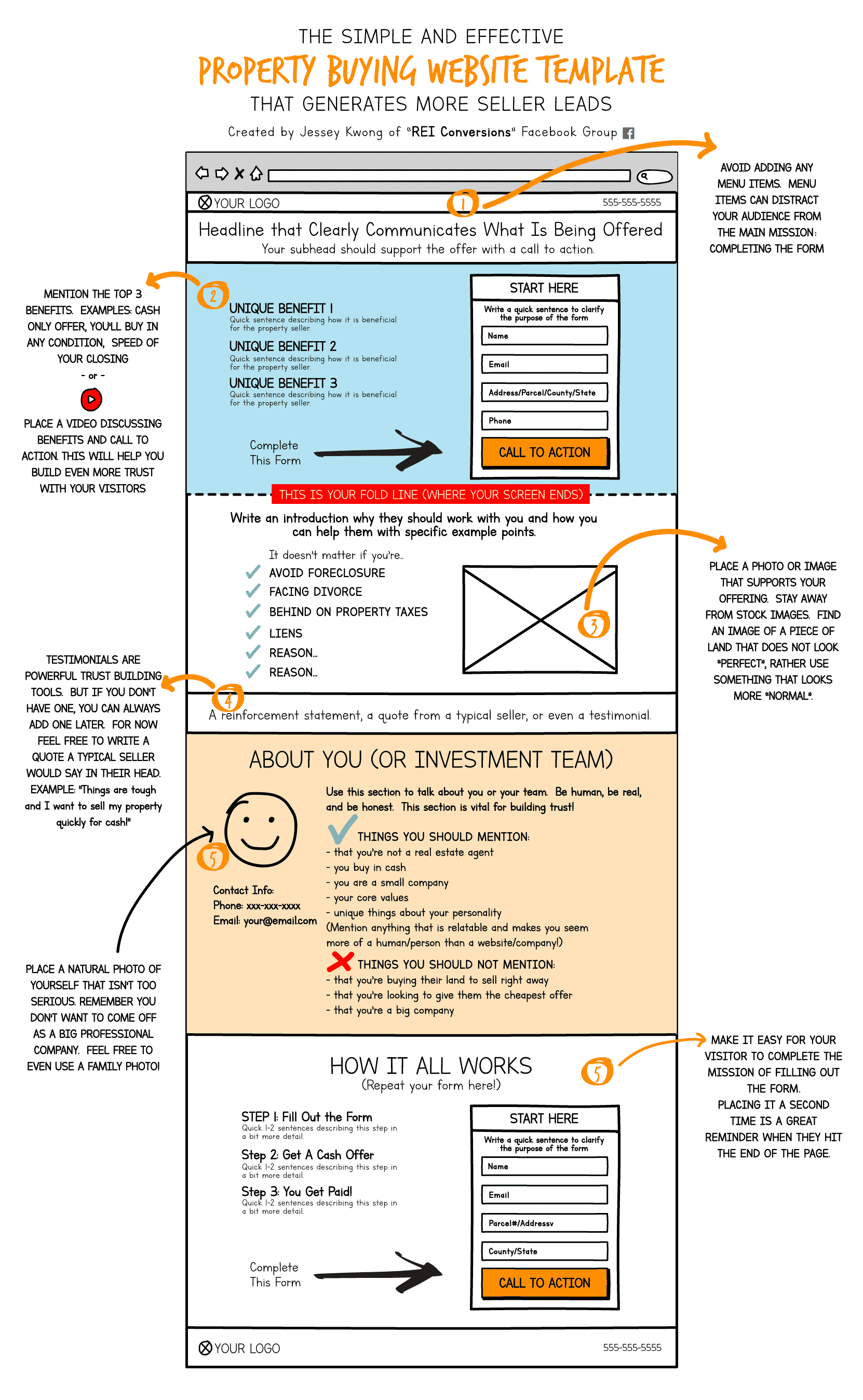 ---
Discover our latest podcast episodes
30 Nov 2023
Welcome to our 100th episode! This special edition of the show is a conversation between our founders, Jessey and Kevin, about the Pebble story so far.
16 Nov 2023
It was a 5-second decision. When his brother Daniel (ep. 97) approached him with the idea of getting into land, Ron sold off his 401k, liquidated his stocks and went all in.